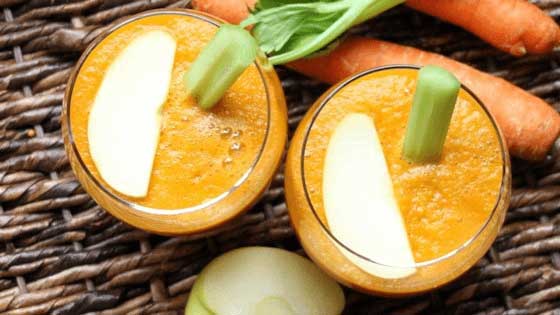 Since juice doesn't have fiber, it doesn't have the same digestion needs as regular food. Nutrients are more easily absorbed by your body.
Carrots are a great source of vitamin A in the form of beta carotene. They are also an excellent source of B vitamins, vitamin K and potassium. The carrot juice is pleasantly sweet, and pairs well with the tartness of the apples. When buying apples, choose firm ones as they will produce a clearer juice.
Carrot Apple cleanse JUICE BENEFITS
It helps you lose weight quickly.
It improves nutrient absorption.
Feeds good bacteria in your gut.
It helps lower cholesterol.
It helps detox your liver.
It lowers blood sugar levels.
Improves your skin.
Broadens the range of vegetables you eat.
Improves athletic performance.
Fresh juices don't burden your body with digestion needs and give your body time to eliminate toxins and detox itself.
This is a really delicious drink and is full of beneficial nutrients such as vitamins, minerals, and antioxidants.
If you're looking for a detox juice recipe that is not actually "green", try out this yummy "carrot" detox juice.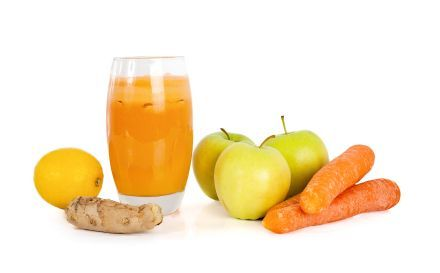 Tropical Carrot Apple Juice Recipe
2 large carrots
1 large apple quartered
1/2 cup pineapple chunks
2 pieces fresh ginger
2 Celery Stalks
Instructions
Wash all the weight loss juice ingredients well and pat dry.
Cut fruit and vegetables into 1-2 inch chunks. Remove any peels.
Place all ingredients in a juicer.
Process into juice according to the manufacturer's directions.
How to make Tropical Carrot Apple Juice Video:
TIP # WHAT ARE THE HEALTH BENEFITS OF JUICING?
According to the Mayo Clinic, by drinking freshly made juices, your body can absorb the nutrients better than eating whole fruits and vegetables and it gives your digestive system a rest from working on fiber. They say that juicing can reduce your risk of cancer, boost your immune system, help remove toxins from your body, aid digestion, and help you lose weight. Fresh juices can give you a burst of energy and a clear mind.