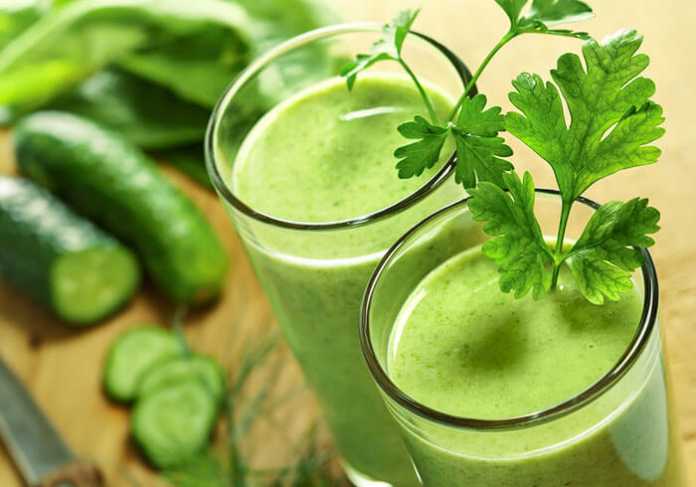 Vegetables are filled with vitamins and minerals, and juicing extracts those nutrients making them easier to digest. Drinking juice is believed to flood the body with healing nourishment while also flushing toxins and waste. According to proponents, a juice cleanses supports the body's natural detox processes, clears the diet of sugar, caffeine, refined foods, and other foods and substances that can deplete energy, and jumpstarts a more healthful way of eating.
Today let's stick to mostly veggies when juicing since adding lots of fruit makes the sugar content skyrocket. So far, our favorite veggies to juice are beets and carrots — they are already naturally sweet and really don't need much help from fruit to make the juice taste incredible.
For this easy green juice recipe, we combine highly alkalizing spinach with green apple, cucumber, parsley, ginger, and lemon. Spinach tastes mild and is packed with nutrition, lemon and ginger add zing, the cucumber adds mineral-rich water, and the apple balances everything out with a little sweetness.
Green Juice Benefits
Green Apple When juiced with the peel still on, apples are a great source of Vitamin A, Vitamin C, and potassium. Apples help with breaking down toxins, lowering cholesterol, and helps with digestion
Parsley is an antioxidant powerhouse and is rich in vitamins and minerals such as potassium, iron, magnesium, vitamin A, vitamin B, vitamin C, vitamin E, and vitamin K.
Spinach is alkalizing and is rich in many essential vitamins and minerals. A real powerhouse!
Cucumber is high in vitamin A, B complex, vitamin C, and folic acid. It's aids in cell hydration, regulating body temperature, and eases inflammation.  It's high silica content also helps to alleviate skin problems, hair loss and strengthens nails
Lemons are high in immune-boosting vitamin C and help out with potassium and vitamin B6.
Ginger is a powerhouse in juices. Thanks to gingerols, ginger has powerful anti-inflammatory effects, aids in digestion and relieves bloating.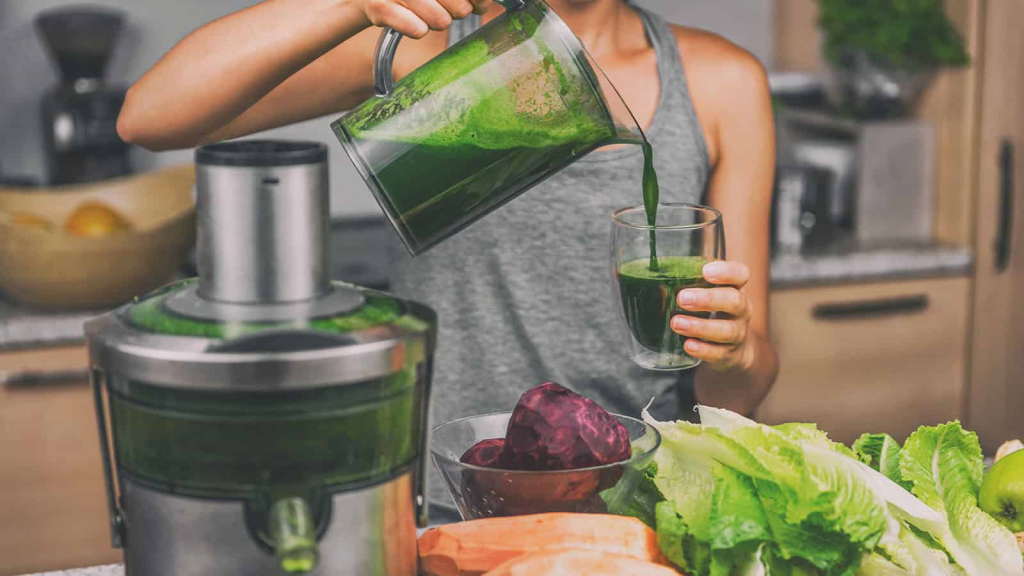 Green Juice Recipe
1 medium green apple, rinsed with core removed
Handful parsley leaves and stems
2 cups packed baby spinach leaves
1 large seedless (hothouse or English) cucumber, rinsed
1 medium lemon
1-inch length piece fresh ginger, scrubbed clean
Instruction
Chop the apple, cucumber, and ginger into thin pieces small enough to easily go through the juicer. Cutaway the yellow peel from the lemon, leaving most of the white pith and lemon flesh. Cut into slices and remove any seeds. Reserve about half of the lemon. Turn the juicer on and push everything through, alternating between the greens and the firmer cucumber, apple, and lemon. When everything but the reserved lemon has been juiced, stir the juice and taste for tartness. Add the remaining lemon if you feel it can take it. Or if the juice is too tart, consider adding a couple scrubbed unpeeled carrots or another cored apple.
AUTHOR: Martha Stewart Green Juice Recipe