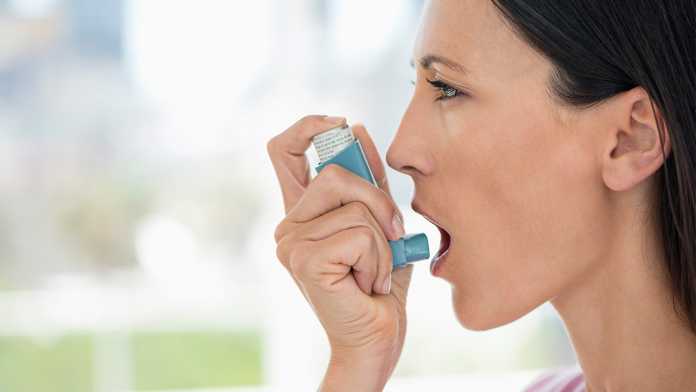 As the whole world is going through the tough and challenging phase of COVID 19 since it impacted a lot of lives all across the world in terms of health, wealth and happiness. So many people have already lost their lives due to COVID 19 and it generated immense fear across individuals.
COVID 19 virus use to impact the upper respiratory system and it's a respiratory illness that causes dry cough and shortness of breath. It uses to create havoc in the overall respiratory system. It generally uses to enter via nostrils once it gets to enter it begins to cause injury to a person's airways and lungs. Anyone can get infected with the novel coronavirus (covid 19) but some people have more chances to develop a serious illness those who have moderate to severe asthma.
As per Pulmonologists asthmatic persons are more vulnerable to catch COVID 19 infection and have more tough times if their lungs are getting infected by COVID 19 infection. Since a person with asthma has lower respiratory reserve than a person with no lungs problem at all.
What is Asthma?
Asthma is a severe condition in which inflammation is caused in the airways (which transport air into the lungs). This condition narrows down airways, leading to difficulty in breathing. Infected airways are highly sensitive and tend to react adversely on environmental things, such as particles which are present in the surroundings, which causes further swelling. Extra mucus is formed during asthma which obstructs the path of air. During COVID 19 Pandemic asthmatic patients need to take special care to not get infected since its more painful for them.
Causes of Asthma
The exact cause of asthmas is not known, but yes family history and environmental conditions are considered as a major culprit for such a situation. Chances of asthma increases when a sensitive person meets allergy-causing substances. These things can be pet dander, dust particles, cockroach allergens etc.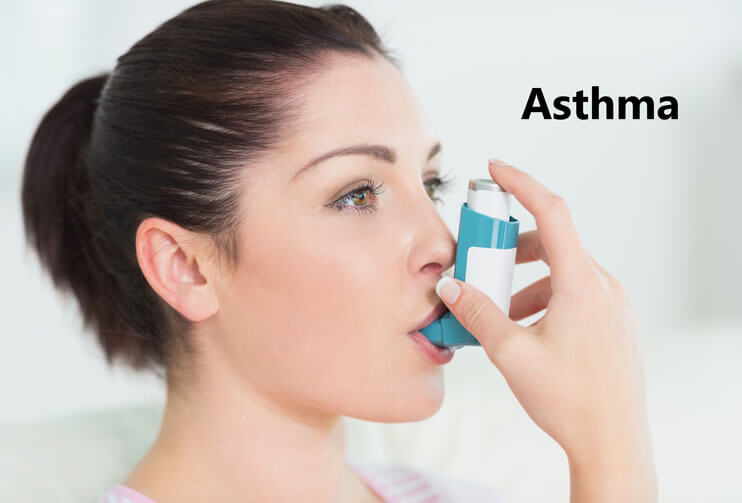 Symptoms of Asthma
Asthma symptoms may remain with the patient on a regular basis or may occur as per the season. This infection worsens in spring or fall, especially for people with pollen allergies. Major symptoms of asthma are: coughing, wheezing, chest tightness and difficulty while breathing.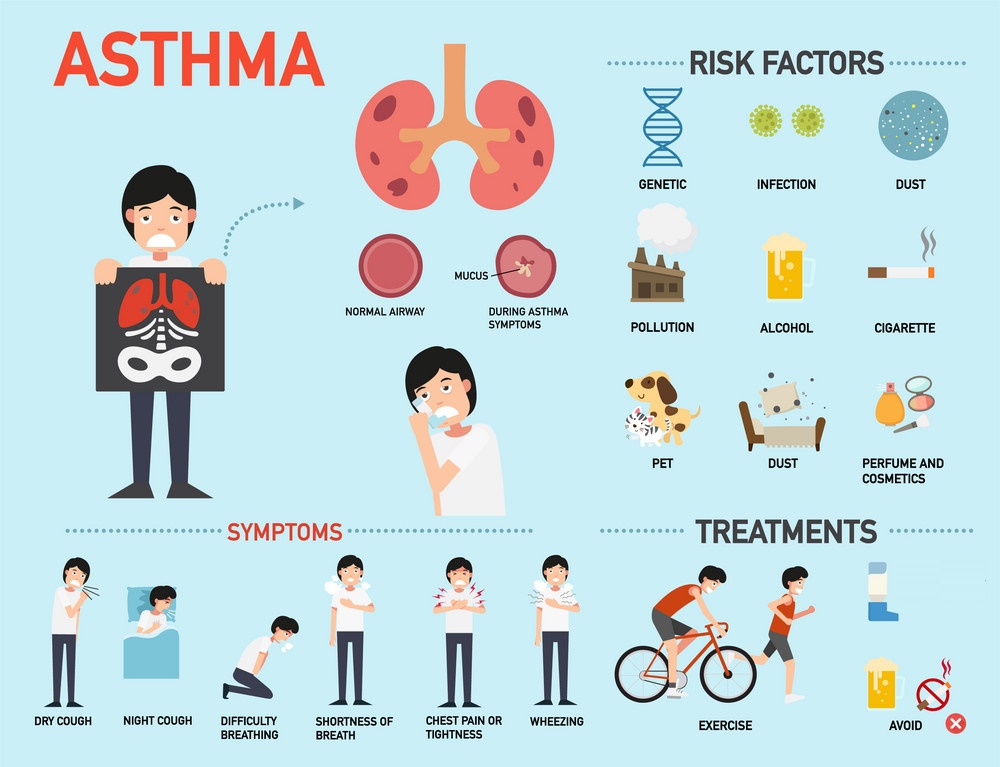 Treatment of Asthma
As such, there is no permanent treatment available for asthma. Patients need to consult with the doctor for managing it well. They should identify the allergic substance and try to avoid it. There are medications available for asthma which can be categorized in two ways:
Quick-relief medicines: There are inhalers which act quickly and relax muscles present around the airways, thus allowing the free flow of fresh air in the lungs. Asthmatic patients are suggested to keep the inhaler with them all the time.
Long-term medicines: These medications are taken on a regular basis for avoiding asthma attack in future. One of the common medicines is corticosteroids, it minimizes inflammation and strengthens airways against triggering substances. It is recommended to consult a doctor before taking any medications, as one should know its proper dose. The patient should keep taking long term medications, even if they are feeling well, as the symptoms may return in future.
Home Remedies for Asthma
Ginger: It caters an ample number of benefits for our body. It is a highly effective remedy for asthmatic patients. Take ginger, honey and pomegranate in equal quantity and prepare a juice from them. Take this juice 2-3 times in a day for better results.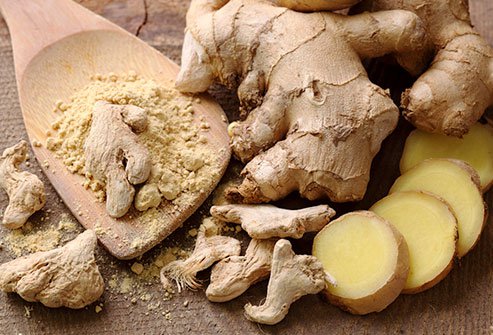 Else, extract one tablespoon ginger juice, mix it with an equal amount of honey and 2 tablespoons of fenugreek seeds. Soak this mixture overnight and consume it in the morning. This will detoxify your lungs.
Honey: Honey is one of the best home remedies for asthma. Mix 1 tablespoon of honey in hot water and take this mixture for 2-3 times in a day, one can also inhale the aroma of honey for getting relief. Alternately, one can also mix 1 tbsp of honey with ½ tbsp of cinnamon powder. Consume this mixture before sleeping.
Coffee/ Black Tea: Caffeine gives relief to asthma patients. It allows easy flow of air into the lungs by clearing the passage. If you don't prefer coffee, you can take black tea. Make sure to limit the consumption up to 3 cups in a day.
Mustard Oil: Make a mixture of mustard oil and camphor. Massage your chest with this mixture for getting relief from asthma. Make sure that the oil is lukewarm, for giving warmth to your chest.
Also Read:8 Best Foods to Boost Immunity During Covid-19
Breathing Exercises
Regular breathing exercises also help to control asthma up to some extent. As per 2014 research review suggests that regular breathing exercises if done properly help to improve asthma symptoms and overall mental well being. It might also help to reduce the use of rescue medications for asthma.
Some breathing techniques like slow breathing, control holding of breath, breathing via nose will help. But please don't use these breathing techniques during the time of the attack.
Bottom Line
Asthma attacks sometimes become little serious and sometimes it comes suddenly. So always keep rescue inhaler along with us as the first line of treatment and if the situation gets worsen then always consult your doctor for emergency help. Above listed home remedies for asthma are good to subsidized Impact of asthma but it's not a full-proof treatment for asthma attacks.
During these current tough times of covid 19 pandemic asthmatic patients have to take extra precautions. Apart from following regular precautions to protect against covid 19 like wearing masks, washing hands-on regular basis and use hand sanitizers, follow proper social distancing, limited exposure to the outside world.
Persons from moderate to severe asthma should take special care during COVID 19 eras. The best way for asthma patients to protect against covid 19 is to avoid exposure to the coronavirus by limiting themselves to going outside. In case of an emergency if they suppose to go outside then they should take all necessary precautions like wearing masks, social distancing and so on. Always carry a rescue inhaler and necessary medications as prescribed by your doctor along with you. These things will be life saviours for asthmatic patients during these tough and challenging time of covid 19.
Always work out with your doctors, pulmonologists and respiratory therapists to develop a perfect treatment plan that will help in managing asthma and avoid sudden attacks in future.